How to change Auto-Pay method for Buy now-pay later in Spenda
Step 1. Select the "Payment Options" section, while connected to "Spenda Invigo Pay Later"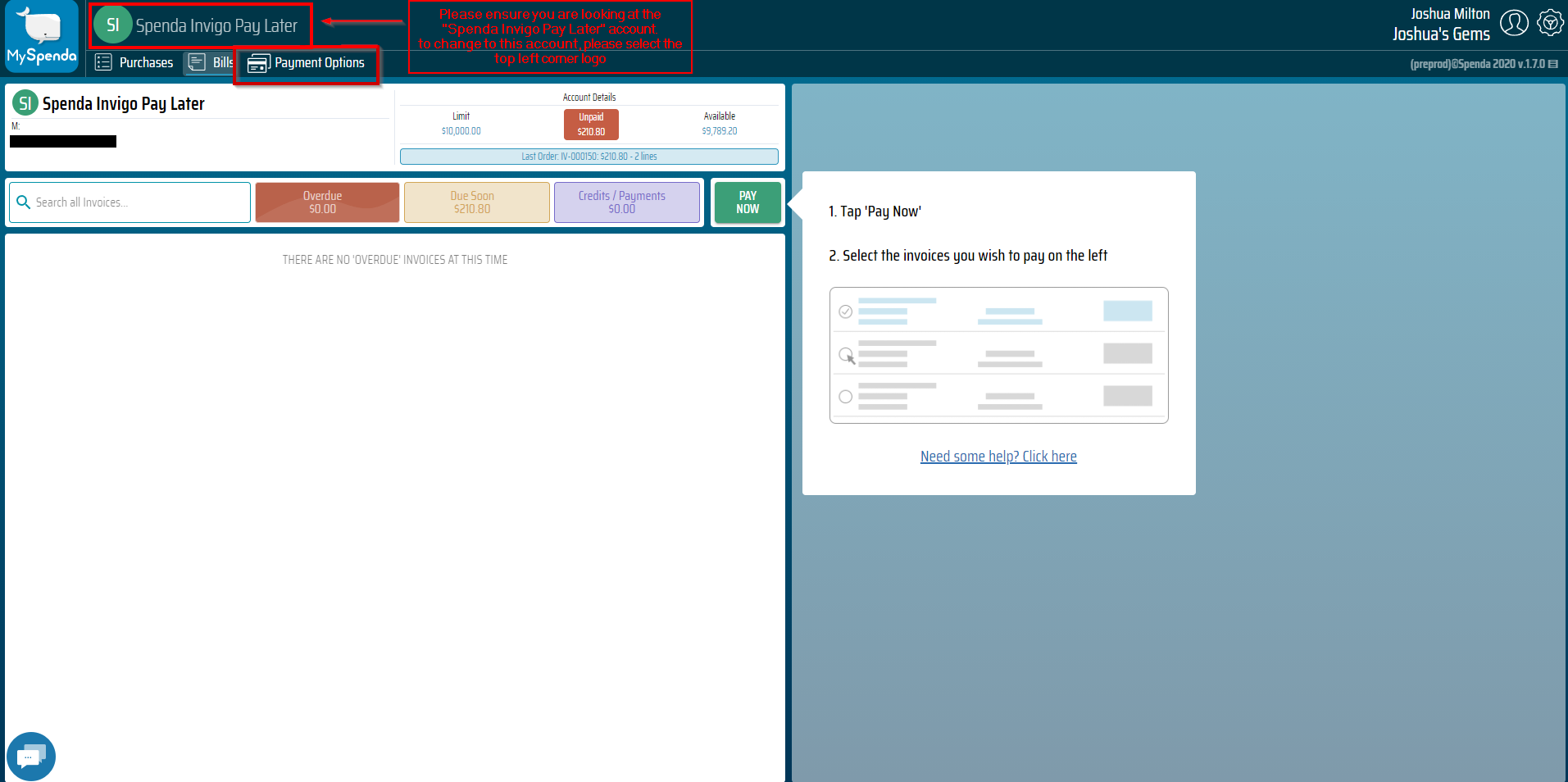 Step 2. Select the edit button in the bottom left corner of the payment option you would like to have as the Auto-Pay account.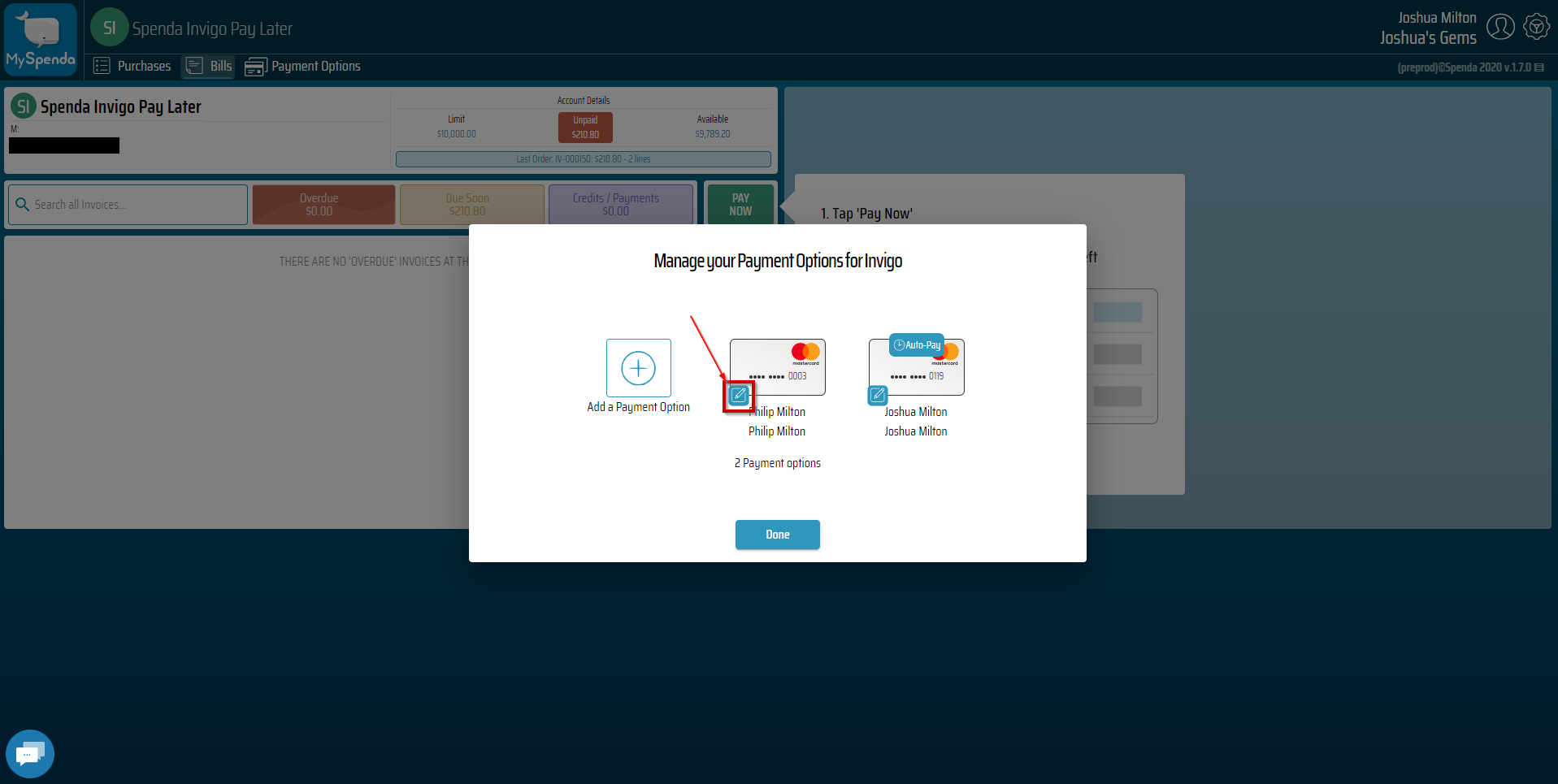 Step 3. Select the button to the right of "Enabled for Auto-Pay repayments"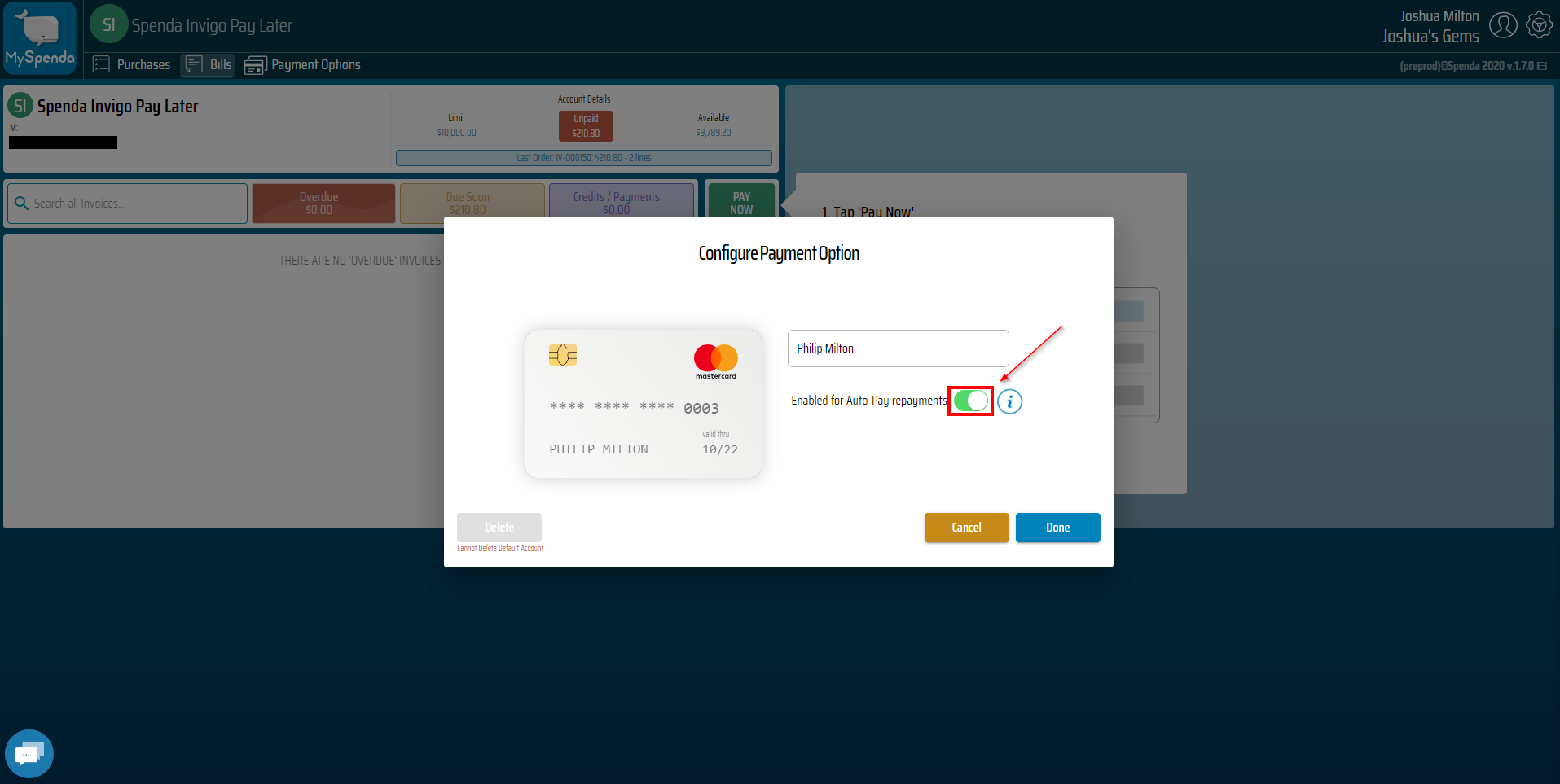 Step 4. A verification window will appear, please select the "Update" button to set this account as the Auto-Pay payment option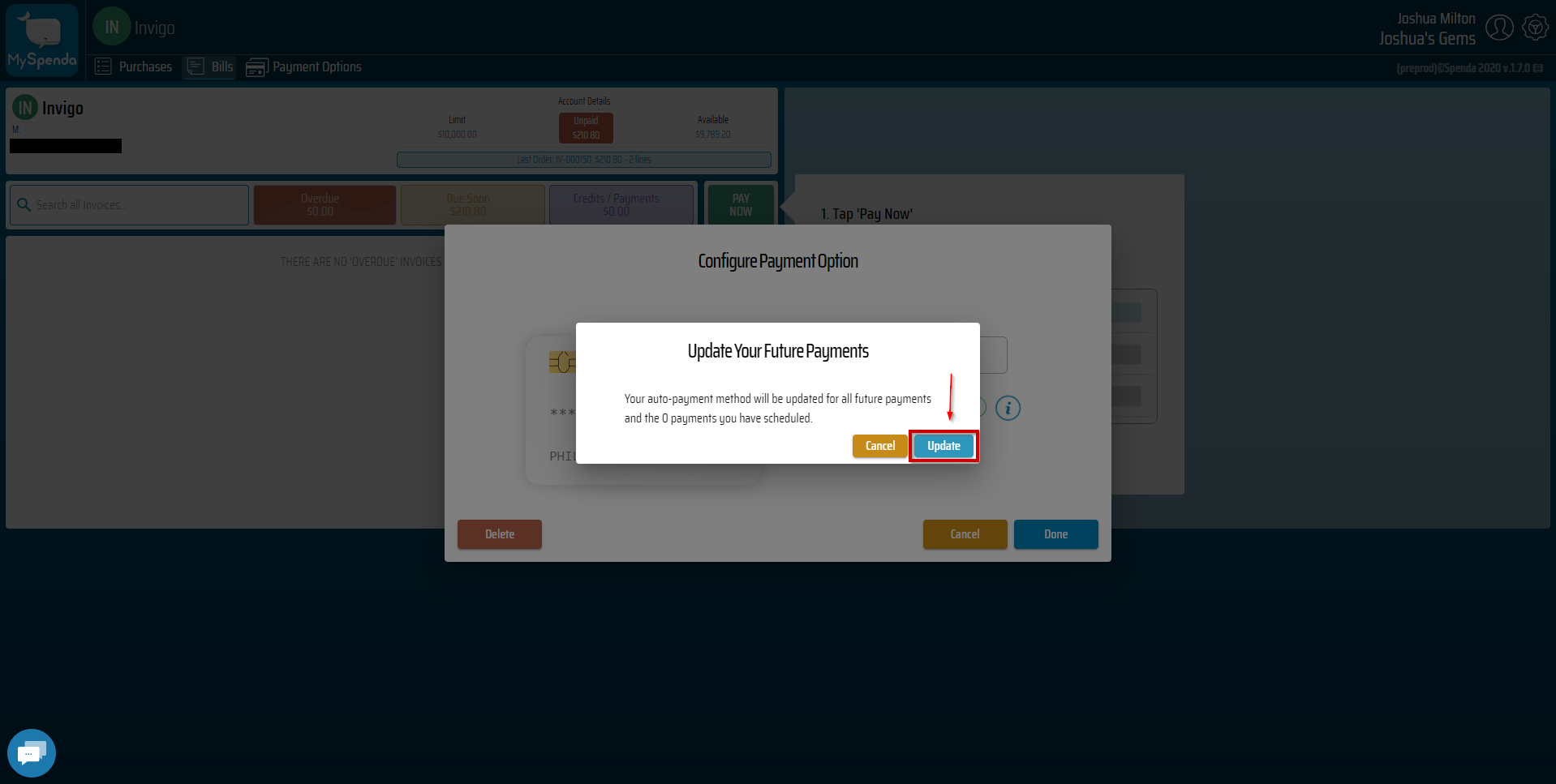 Step 5. All future Auto-Payments on this account will come from this Payment option, and any current invoices owed will be updated to send repayments from the new Auto-Pay Payment option.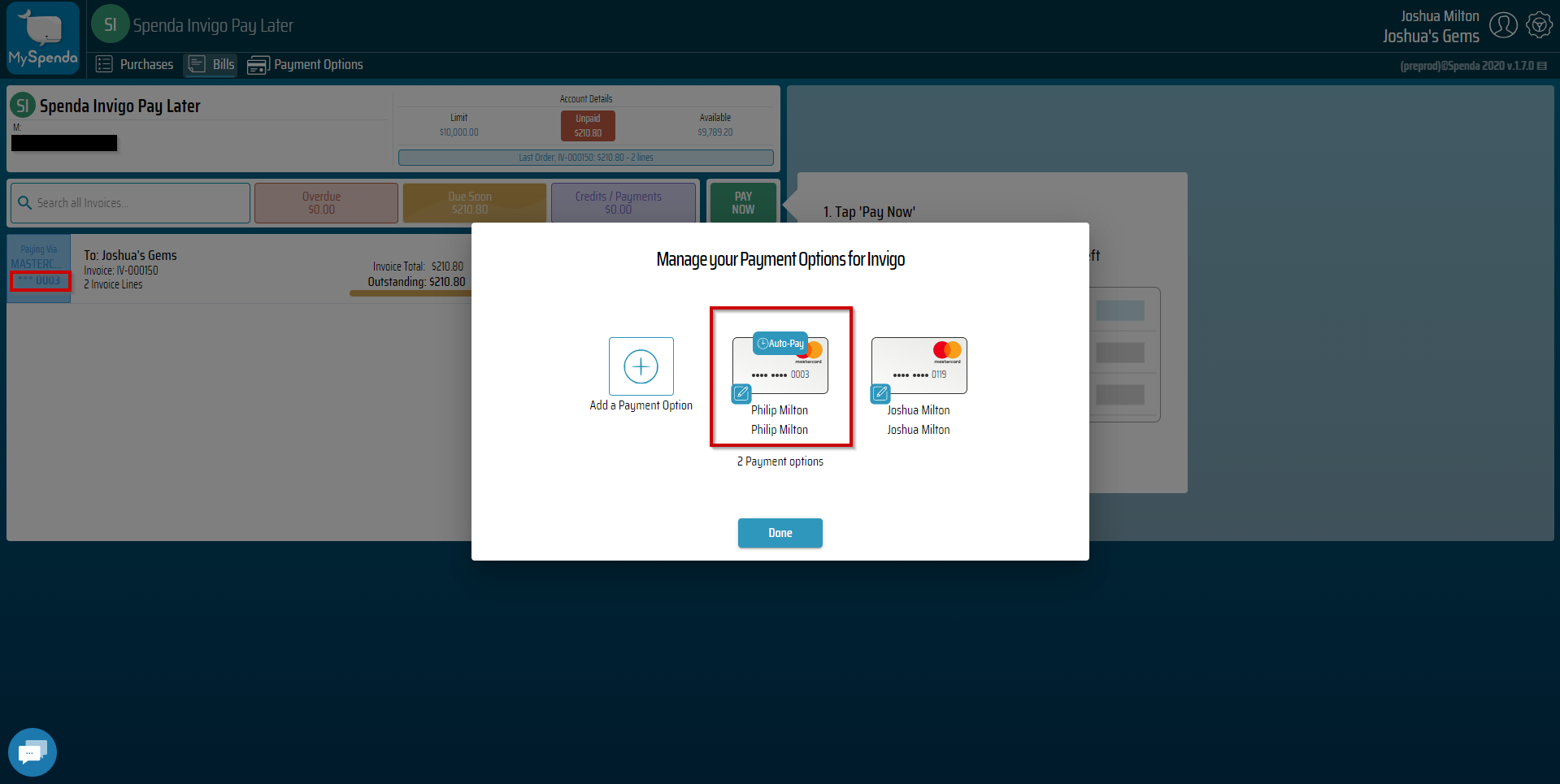 ​
Related Articles

How to Pay an invoice early for Buy now-Pay later

Step 1. Within the "Bills" section of Spenda, select "Pay Now" (please ensure you are looking at the correct business's invoices- seen here in the top left as "Invigo", to change the business you are looking at please select the MySpenda Logo in the ...

How to view your credit limit for Buy now-Pay later

Step 1. Select the "Bills" Section (1) of MySpenda to see your invoices and credit limit for the Business seen in the top left as "Spenda Invigo Pay Later" (if you are not on the correct Business, please select the top left corner "MySpenda" Logo, ...

How to view current scheduled invoices for Buy now-Pay later in MySpenda

Step 1. Select the "Bills" (1) section, while connected to Invigo (top left) Step 2. Select "Due Soon" (2), you will be able to see any invoices (3) that are scheduled for payment and when they are due.

How to add a new payment method

To add a new payment method, log into your Spenda account and select the 'Accounts Payable' module. Click the 'Settings' tab, located at the top of your dashboard. Select 'My Accounts' from the settings list on the left. Here, you can add a new ...

How to Request a credit limit increase for Buy now-Pay later

Step 1. If your current credit limit (1) is insufficient for your business, please contact support at support@spenda.co. *In the email please outline the Credit limit you would like to have.*